Al Capone Bobblehead
Al Cap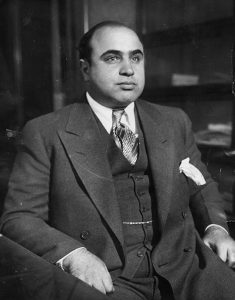 one was an American gangster who rose to notoriety in the early 20th century as the leader of the Chicago Outfit, one of the most powerful organized crime groups of the Prohibition era. Born in Brooklyn, New York in 1899, Capone began his criminal career as a member of the Five Points Gang before moving to Chicago to join the Outfit. He quickly rose through the ranks to become the organization's leader, known for his charisma, savvy business skills, and ruthless tactics.
Despite his involvement in illegal activities such as bootlegging, gambling, and prostitution, Capone was considered by some to be a folk hero, particularly among those who saw him as a symbol of resistance against Prohibition laws. He was known for his generosity towards his community, often donating money to charity and sponsoring soup kitchens during the Great Depression. He was also praised for his personal style, including his custom-made suits and expensive jewelry.
Capone got the nickname "Scarface" due to a visible scar on his face. In 1917, Capone was working at the Harvard Inn, a bar in Coney Island, New York. One night, after a dispute with a patron, Capone was attacked by the man's brother, who slashed him across the face with a knife. The wound required several stitches to close, leaving a noticeable scar that ran from his left cheek to his jawline.
Capone was reportedly self-conscious about the scar and tried to cover it up with makeup or by positioning himself in a way that hid it from view. However, the moniker "Scarface" stuck, and he eventually embraced the nickname, using it as a symbol of his toughness and resilience.