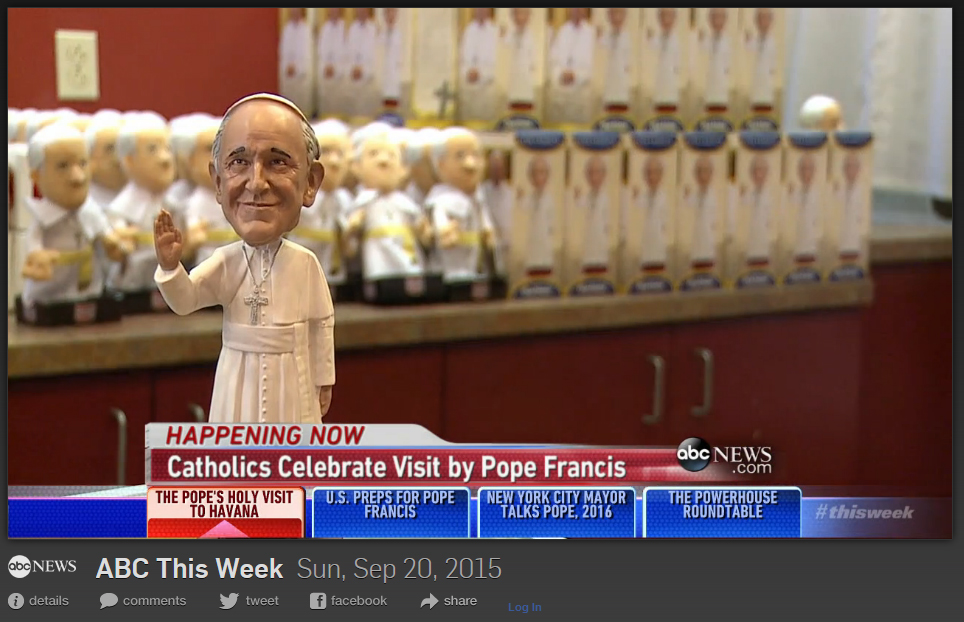 Pope Francis bobblehead gets the nod of approval from the Pontiff's fans and supporters
Pope Francis took the US by storm, and so did Royal Bobbles' likeness of the Holy Father. For weeks leading up to the Pope's arrival and during his visit to Washington, DC, Philadelphia and New York City, tens of thousands flocked to see him, while thousands also purchased the company's Pope Francis bobblehead, made more in scale and proportion than many of the company's other collectibles, his hand raised in greeting and a warm smile on his face.
This bobblehead definitely struck a nerve with people; It sold out repeatedly and hit Amazon's top ranking in September. It became the best-selling bobblehead in the world that week!
This rendition of the Pontiff also captured the media's fancy. Here are samples of stories from across the country and even as far away as Australia and the UK, talking about Pope merchandise, with Royal Bobble's creation front and center.
The Wall St. Journal
Pope Francis Memorabilia Gets Really Cheesy; Mozzarella, Anyone? August 26, 2015
https://www.wsj.com/articles/pope-francis-memorabilia-gets-really-cheesy-mozzarella-anyone-1440550254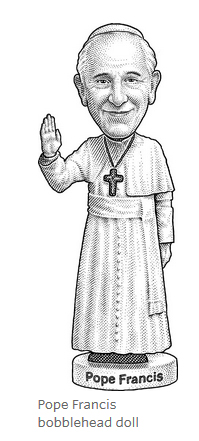 11 Alive News, Atlanta, GA – Sept 15, 2015
Papacy in motion at Alpharetta business
https://www.11alive.com/videos/news/local/alpharetta/2015/09/15/papacyinmotion-at-alpharetta-business/72338284/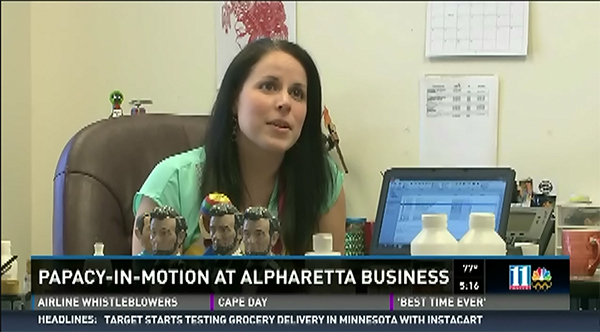 CBS News – CBS This Morning – Sept 25, 2015
Small businesses profit from Pope Francis visit to US
https://www.cbsnews.com/videos/small-businesses-profit-from-pope-francis-visit-to-us/
Steven Colbert, The Late Show on CBS – Sept 26, 2015

LOS ANGELES TIMES – Sept 24, 2015
Pope Francis inspires a craze, and a quest, for a bobblehead doll
https://www.latimes.com/nation/la-na-pope-francis-dolls-20150924-story.html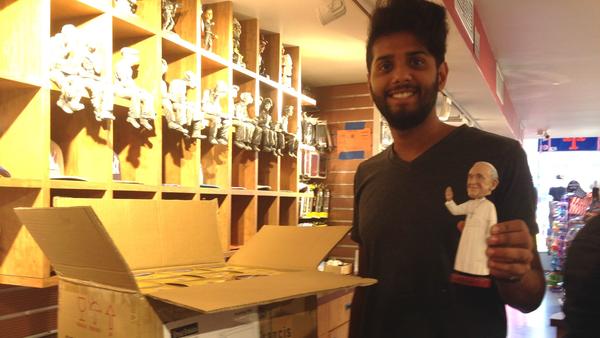 Washington Post – August 24, 2015
'Pope-apalooza' inspires a flood of Francis bobbleheads, mugs, even beer
https://www.washingtonpost.com/local/pope-apalooza-inspires-a-flood-of-francis-bobbleheads-mugs-microbrews/2015/08/24/302eb134-4800-11e5-846d-02792f854297_story.html?postshare=6631440682538041
USA Today – August 28, 2015
Why a plush doll is a pope visit souvenir
https://www.usatoday.com/story/news/2015/08/28/official-pope-francis-us-visit-souvenirs-include-plush-doll-bobblehead-and-cardboard-cutout/71310114/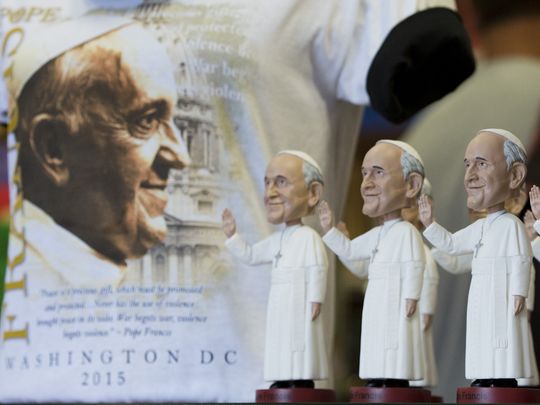 KKCB, Duluth, MN, Sept. 29, 2015
Brief blog on Pope souvenirs, with photo of bobblehead
https://kkcb.com/souvenirs-of-pope-francis-visit-are-quite-surprising-would-you-purchase-a-bobblehead/
Good Morning America (ABC) – Sep 26, 2015
Images of Pope Francis Bobblehead on the morning show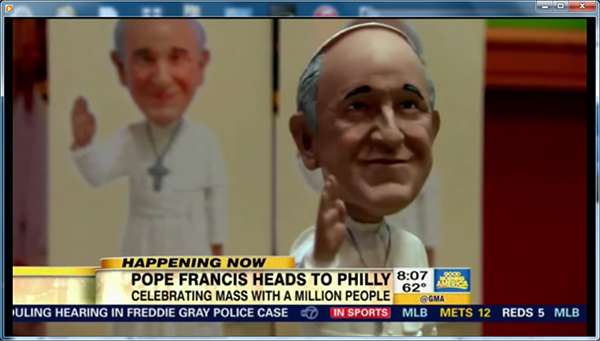 Slate.com online magazine – Sept. 25, 2015
The Pope's Swag: Francis' visit has inspired a cottage industry of papal buttons, baseball caps, and bobbleheads.
https://www.slate.com/articles/business/moneybox/2015/09/pope_francis_swag_all_the_papal_souvenirs_you_can_buy_from_bobbleheads_to.html
WAMU-FM – Sept 25, 2015
With Beer And Bobbleheads, Washingtonians Welcome Pope Francis
https://wamu.org/programs/metro_connection/15/09/25/washingtonians_welcome_pope_francis
Philadelphia Magazine – Sept 25, 2015
The Fully Sanctioned Pope in Philly Drinking Game
https://www.phillymag.com/news/2015/09/25/pope-francis-in-philly-drinking-game/
AOL.com – Sept. 25, 2015
Bobblehead, umbrella, mug or magnet? Pope souvenirs abound (includes a video)
https://www.aol.com/article/2015/09/25/bobblehead-umbrella-mug-or-magnet-pope-souvenirs-abound/21240665/
SFGate.com, San Francisco, CA – Sept. 24, 2015
Pope Francis bobbleheads, cookies and more merchandise for sale
https://www.sfgate.com/aboutsfgate/article/Pope-Francis-inspires-merchandise-craze-bobblehead-6526583.php
The SunTimes Network, Chicago, IL – Sept 22, 2015
Pope Francis' visit inspires run on thongs, bobbleheads, beer
https://national.suntimes.com/national-world-news/7/72/1868266/pope-francis-united-states-visit-thongs-bobblehead-sports-bra
US PAPAL VISIT – Photos: World Meeting of Families 2015 – Sept 22, 2015
CruxNow.com Catholic online publication
Run date: Sept. 22, 2015
https://www.cruxnow.com/papal-visit/2015/09/22/photos-world-meeting-of-families-2015/
The Globe and Mail, Toronto, Ontario, Canada – Sept 22, 2015
Why does everyone have a Pope crush? ( pic of bobblehead/ personal commentary)
https://www.theglobeandmail.com/globe-debate/why-does-everybody-have-a-popecrush/article26464579/
Pope shows up in cardboard and Legos – Sept 21, 2015
https://www.theglobeandmail.com/news/world/pope-francis-shows-up-in-cardboard-and-lego/article26452382/
The Daily Press, Newport News, VA – Sept 22, 2015
Pope Francis bobblehead
https://www.dailypress.com/visuals/photography/dp-pope-francis-arrives-in-the-united-states-2-003-photo.html
Washington Examiner – Sept. 21. 2015
Popemania hits DC: Emergency bobblehead orders and more
https://www.washingtonexaminer.com/popemania-hits-dc-emergency-bobblehead-orders-and-more/article/2572494?custom_click=rss
Washingtonian Magazine – Sept 21, 2015
Pope Bobbleheads Are Nearly Sold Out
https://www.washingtonian.com/blogs/capitalcomment/local-news/pope-bobbleheads-are-nearly-sold-out.php
Everything you need to know for the Pope's visit to DC – Sept 24, 2015
https://www.washingtonian.com/blogs/capitalcomment/local-news/everything-you-need-to-know-for-the-popes-visit-to-washington-dc.php
TIME Magazine – Sept 21, 2015
Pope Francis Bobbleheads Are Flying Off the Shelves
https://time.com/4043692/pope-bobbleheads/
The Guardian, London, UK – Sept. 18, 2015
Pope Francis souvenirs: bobbleheads, baseballs and Pope toast – in pictures
https://www.theguardian.com/world/gallery/2015/sep/18/pope-francis-souvenirs-pope-toaster-baseball-bobbleheads-in-pictures
WPVI-TV, Philadelphia – Sept 17, 2015
Top Pope Francis-themed products
https://6abc.com/shopping/15-pope-themed-products-that-will-make-life-heavenly/988476/
WDRB-TV Louisville, KY – Sept 17, 2015
Pope Francis bobbleheads a popular item ahead of the US papal visit
https://www.wdrb.com/clip/11852563/pope-francis-bobbleheads-a-popular-item-ahead-of-the-us-papal-visit#.Vfs24L8IxwU.mailto
Fox43 News, WPMT- TV, Harrisburg, PA – Sept 10, 2015
Pope-inspired merchandise taking over Philadelphia
https://fox43.com/2015/09/10/pope-inspired-merchandise-taking-over-philadelphia/
Gruen Transfer – Australia- Sept 30, 2015
Around the 10 min. mark. At 12.22, direct mention of bobblehead and prior graphic. Gruen Transfer is a television program on Australia's ABC1 network, called The Gruen Transfer, discusses the methods, science and psychology behind advertising.
Published on Sep 30, 2015
https://www.youtube.com/watch?v=d3g9JBKtpLA
FOX NEWS/Latino – Sept 9, 2015
From bobblehead dolls to toasters, Pope Francis keepsakes become huge business in the U.S.
https://latino.foxnews.com/latino/lifestyle/2015/09/08/pope-francis-memorabilia-serious-business-in-philadelphia-sort/
The Herald, Rock Hill, SC (WP reprint) – Aug 28, 2015
Pope's visit inspires a flood of Francis bobbleheads, mugs, microbrews
https://www.heraldonline.com/living/article32405013.html
Mainline News ( Suburban Philadelphia) – July 6, 2015
Want a Pope Francis bobblehead?
https://www.mainlinemedianews.com/articles/2015/07/06/main_line_times/news/doc55940f538db72508847299.txt#.VZrdKXX8Vtk.facebook